Bring your pets to us for excellent care
You'll always receive professional veterinary services from the friendly staff at Hillview Animal Hospital. We have been in business for over 20 years and are well known in the community for being friendly, informative, and economical.
Bring your furry babies in to meet our loving staff
Our caring staff really takes the time to get to know you and your pet - you're not a number to us. Bring your pet in for a routine check-up or blood work and see what a difference our staff makes.
Quality surgical care
Spay and neuters, tumor removals or hematoma repair, your pets will be well taken care of at Hillview Animal Hospital when they need surgery.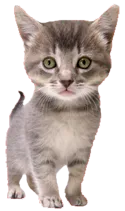 We're pleased to offer the following services at Hillview Animal Hospital & Clinic:

Our appointment book is computerized, which allows us to efficiently make appointments for you and your pet. Our receptionists and team will attempt to accommodate all requests to the best of our ability. However, if you feel you have a life threatening emergency with your pet, please call us first. Our veterinarian may be in surgery and can not see your pet right away. It is best to call before coming in so that a staff member can advise you on your particular emergency. We are a small clinic and may not have equipment needed in a severe emergency.